Millfair Compost & Recycling Center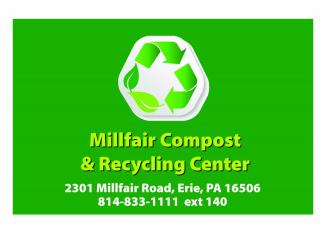 Hours of Operation:
 
 
Monday- Saturday:
9 a.m. to 5 p.m.
 
 
Sunday
Noon to 5 p.m.
 
 
Acceptable Materials: Leaf waste, Shrubbery, Brush, Tree trimmings, Non-food garden residue
Unacceptable Materials: Grass, Sod, Dirt, Bamboo, Ornamental grasses, Weeds, Food or food garden waste, Grapevines, Landscape timbers, Concrete, Wood that contains nails and metal, Painted or processed wood, Hay or straw, Corn stalks, Large root systems, Stump grindings
Residential permits are available at the Millfair Compost & Recycling Center and also at the Fairview Township Municipal Building, free of charge. Your Millfair permit, which does not expire from year to year, will allow you a more efficient and streamlined check-in procedure at the booth. While the Center is only available for drop-off to all Millcreek, Fairview, and West County residents, there are no restrictions on purchasing.
ITEMS AVAILABLE FOR PURCHASE:
Screened Mulch (1/2 - 1 inch)                      $20.00/yard
Leaf Compost                                               $25.00/yard
Mix of Screened Dirt & Compost (50/50)     $20.00/yard
Screened Dirt                                               $12.00/yard
Unscreened Dirt                                           $  5.00/yard
Logs (when available)                                  $20.00/pickup truck load 
Coarse Mulch (2 inches & up)                      FREE
Wood Chips (when available)                       FREE
Payment is required at the time of purchase. Payment options are as follows: Check, Debit Card, Credit Card (Visa, MasterCard, Discover)